About Us
All our dogs are fed on Artemis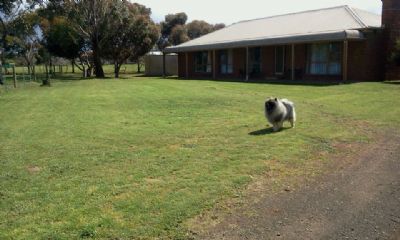 We are David & Denise Wall
We live in Wallan, Victoria, Australia, about 40 mins north of Melbourne. I got my first Keeshond in 2001 and fell in love with the breed there and then. I had 2 companion dogs (well 2 bitches actually), 1 was an ex show dog and the other was her mother. In early 2010 we got Sally, a neutered bitch, to try my hand in the show ring. I loved it and I was hooked. We then went out and got our first entire show dog, Keez Que Sera Sera, and the rest as they say is history.
We are dedicated to the well being of the breed, which does not stop at selective breeding and full health testing, but continues throughout the life of every one of our dogs from our breedings, be they show or companion. It is for this reason only that we require anyone buying a dog or puppy from us to enter into and sign a contract. This is for the protection of the dog only and any responsable owner would understand this.
Our dogs are not kennel dogs. They interact with us every moment we are home. A very important factor in socializing any dog or puppy. Litters are whelped inside the house & when the puppys are old enough, they are trained to use a "doggie door" to facilitate house training. As mentioned earlier, all of our dogs are PHPT Neg. by decent OR via DNA testing. We also DNA Profile our dogs, puppies, and parents for proof of parentage which also shows they are PHPT clear by decent. Any dogs breed are also x-ray and Hip, Elbow scored. Our puppys are microchipped, Vaccinated, and registered with the VCA on the full register for show prospects, or on the limited register for companion dogs. ALL COMPANION DOGS WILL BE DESEXED WITHOUT EXCEPTION.
I would like to extend a welcome to any one to contact us, not only to buy a puppy, but to even have a chat about the breed to ascertain if a Keeshond might be the right breed for you, and any health issues within the breed, so you may make in informed choice when welcoming a new puppy into your home.
2016 we enter a new stage with the introduction of Collie Roughs to our kennel. Through our association with Keeshonden we now have collies from one of the most respected breeders in the country. It is an honour to take on dogs of such quality to join our show team
We have exported dogs to South Africa, New Zealand, and the USA.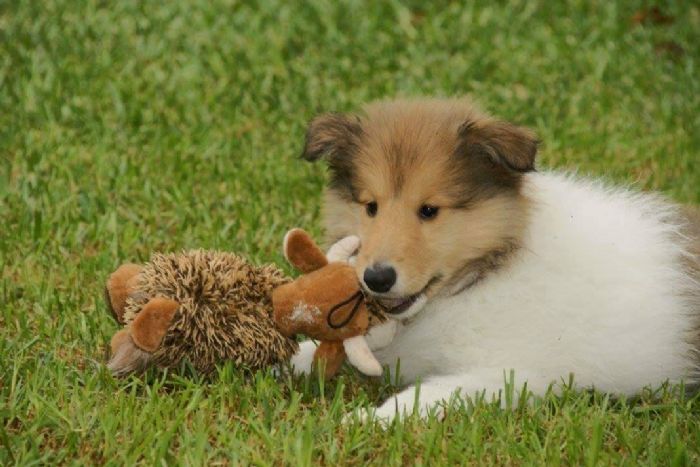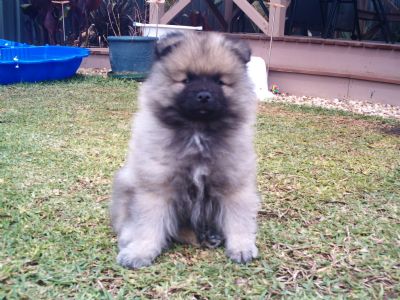 Multi Best In Show Winner
Australian Supreme Champion
Calivale True Spirit
at 8 weeks of age
David is an ANKC registered Non-Sporting Judge & Junior Handler Judge
We are registered breeders with the ANKC & financial members of:
Keeshond Club Of NSW
Non Sporting Dog Club Of Victoria Inc.
Tullamore Kennel Club Inc.
Junior Kennel Club
Dareton Kennel Club
Spitz Breed Club Of Victoria
Vice President of the Collie Club Of Victoria
Denise is an ANKC registered Junior Handler Judge
Contact Details
David & Denise Wall
Wallan, VIC, Australia
Phone : 0434340815
Email :
[email protected]